New Year's blog
Welcome back to Elite where we wish you a Happy New Year! 2018; the year of the dog, back to work we go where we run in arms open wide to our good old friend, English grammar….
But don't worry, we'll try not to delve into too much grammar this week. After a nice holiday of overindulging on chocolate, turkey and alcohol, our brains need some time to kick back into gear. With all the craziness leading up to Christmas, we all need another holiday to get over the last.
Leading up to the Christmas holidays, we celebrated with our Spanish family by cooking them a traditional British roast dinner and doing Secret Santa. We then joined in on Spanish tradition and bought a lottery ticket considering El Gordo is the biggest in the world. We were astonished by the unusual draw, there was only so much of the children's singing we could listen to. Luck didn't go our way, maybe we should have followed the different superstitions such as rubbing our ticket against a pregnant woman's belly or a bald man's head. But whilst we didn't become millionaires, we did happen to win the Christmas hamper from Silsi's El Pati, so party at ours! Then for our two-week holiday we all chose to go back home to wet and dreary England but to our loveable friends and family whose meetings were well overdue. Christmas and New Year's is all about spending time with the people that matter, and this was the perfect pick up for us all, whilst being spoilt by our parents as we lost the responsibility of having to buy our food and do our washing.
New Year's Eve, a night where people gather together to celebrate the evening of December 31st passing into January 1st. Like any big event, different cultures welcome in this New Year in their own style, and as you can guess I'm going to talk about the differences between Spain and England.
Regarding England, the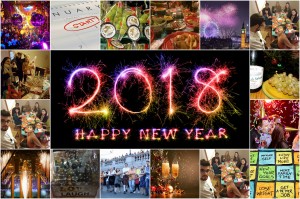 third millennium saw a large change to the celebrations of New Year's. The event was taken to a new level. Crowds grew enormously, and the main show takes place at the Thames banks with the London Eye in view where a grand firework display is set off (fireworks no longer kept just for bonfire night) and where the chimes of Big Ben signals in the New Year. The date has become one where people meet with loved ones to eat, drink, dance and count down the New Year followed by a New Year's kiss, embraces and often champagne. People prefer to celebrate in different ways, some choosing to sit in quietly and watch the chaos in London on TV whilst we all celebrated in a variety of ways, at a club, at a family party and in a bar. It's just another excuse to party and drink even more after this festive period.
However, there are some old traditions that people still follow. Most commonly, at Midnight people join hands and sing to Auld Lang Syne, one of those most popular songs no-one knows the words to. Scottish poet, Robert Burns recorded his version of the ancient Scottish song in the 18th century, but it was in fact a Canadian who performed the song in 1929 and made it widely popular. It is Scotland that seems to celebrate New Year at its greatest, and call it Hogmanay, named after an oat cake given to children on this eve.It is in Scotland that they stay loyal to the tradition of the 'first footing'. To let the old year out at midnight, people open the back door and the first person to set foot in the house will affect the fortunes of everyone who lives there. Often a dark-haired man is seen as good luck, bringing with him salt, coal, bread and whisky meaning everyone will have enough money, food, warmth and good health respectively.
For most New Year's Eve is a normal working day so many people are working waiting impatiently for their shift to finish, so they can go celebrate. However New Year's Day was made a public holiday in 1974, meaning people had time to nurse their hangovers after the late night before which can go on well into the early hours of the morning, but also to signal the end of the festive season.
Previously celebrations in Barcelona were not up to the scale of Madrid and London for example but from 2013 Montjuic's Magic Fountain started to host the official New Year's festivities, sons et lumières. I have a fascination with water features, so it would have been impressive to see along with the pyrotechnic display. People then choose to call it a night or to continue partying long into the night, but alike England, most places require tickets and everything on New Year's Eve comes at an expensive price.
Dating back to the end of the 19th century, the tradition of The Twelve Grapes on 'Nochevieja' is done by everyone we've come across so far. Such an old tradition of eating 12 grapes with the 12 strokes of the clock at Midnight, but one which clearly runs strongly through the roots of the Spanish culture and in our attempt to absorb the local culture around us, back in England we attempted to eat the 12 grapes. I ate all 12 so I hope that means I will have good luck for the whole year, although I missed out on the hilarious race between friends and family as instead I was watched by others and filmed!
We've since learnt of some more traditions, perhaps ones not so widely followed. But for any singletons out there looking for love, make sure you wear some flashy red underwear next New Year's Eve and Cupid will find your better half. You can continue this good fortune by dropping a gold ring or coin into a glass of Cava before the midnight toast, a delicious alcohol I didn't previously know was from Catalonia. Similarly, to the 'first footing' in England, in Spain another superstition is to make sure you start the year on the right foot whist you eat the grapes. There's just so much to remember, especially after one too many Cava's.
New Year's Eve over, 2018 is in full swing and it's time to set resolutions. I'll pass you on to Josep…