"Move to Spain", they said… "Constant sunshine", they said… I just wish someone had told that to the torrential downpour greeting us at the end of our first month here in Spain. It certainly felt more like home, but it wasn't quite what we had all thought we were signing up for when we moved to Catalunya last week to join the team here at ELITE!
Despite my (grantedly very British) complaint, however, I can say our first couple of weeks in Esparreguera were all the better for their unpredictability. For the three of us four interns who speak (or at least try to speak) Spanish, the immersion in the language everywhere from taxis to street markets kicked our lazy summer brains into gear – if only we could find one TV channel in English – but the attempt to balance a mixture of English, Catalán and Castellano has proved a serious challenge. Add to that my Scottish accent, and it's a miracle we've managed to make ourselves understood at all!
The cultural differences have surprised us too. The stereotype may be of Brits as uptight or reserved, but it hasn't seemed so far off the mark here, where it's the norm to kiss strangers on the first meeting, or to gesture madly and touch people as you speak to them. The Spanish passion has also been obvious to us with our friendly and excitable coworkers – nowhere else would you spend the first night eating tapas together, or be taken to see airshows with your boss' family!
Siestas and Sundays, though, are what have thrown us off the most. For me, coming from Scotland, where Sundays are no different to any other days for shops, pubs and restaurants, the total ghost town that was Esparreguera when we attempted to venture out on our second day was a shock. Even a quick run to the shop to pick up water turned into a Bear-Grylls-worthy trek to find the very few places still open.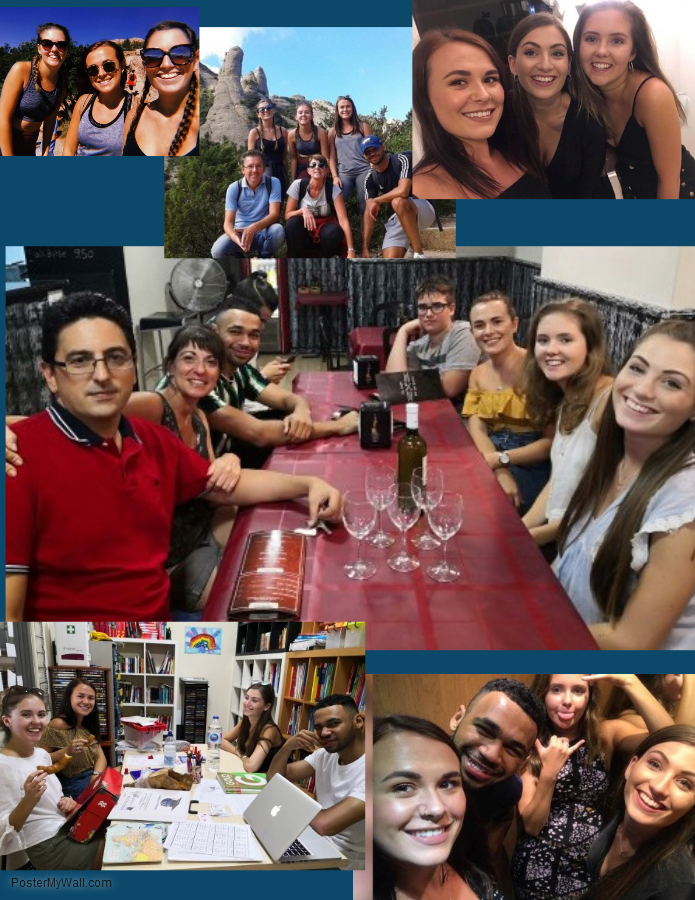 Siestas are a whole other story, not that I'm complaining about the 3-hour lunch break and the chance to sunbathe! The mad rush to get to the bank or post office, in the tiny gap between our finishing work for the afternoon and their closing time, has undoubtedly helped to burn off some of the huge amounts of tapas and pastries we've been indulging in. I could write a whole other blogpost on the amazing cuisine (and cheap wine) here, but that'll be saved for another day.
So learning a language isn't just about the words and lexis, but about the culture too. As we've learned, immersion makes all the difference. What we can do at ELITE is use our British interns to try to create a little UK space in Spain!
All in all, we're loving our new Spanish lives (and the amazing view of the imposing Montserrat from the balcony of our flat) and we can't wait to see what's in store. Until next time, ¡que vayáis bien!
Eilidh Marshal – UK teacher at ELITE Language Centre