'La Diada de Sant Jordi'
April 23rd is a day based on romance and literature, a day full of roses and books in Catalonia inspired by the legend of Saint Jordi. This day is viewed as the most romantic day of the year, the true Catalonian version of Valentine's day, therefore sometimes referred to as 'El Día de los Amantes,', a day where men can be knights for a day and girls can become princesses. Whilst St Jordi is not a public holiday, most people take a few minutes out of their day to appreciate this tradition, and the sense of excitement and joy in Catalonia's atmosphere is astonishing.
This festival is celebrated in honour of St Jordi, the co-patron of Catalonia since 1507, alongside our neighbour the Blessed Virgin Mary of Montserrat and Saint Santa Madrona. As well as Spain, due to the popularity of the legend, he became a patron saint of England, Greece, Romania, Georgia among others. Therefore, the festival is also celebrated in England, known as St George's day. So, who is this man who has caused such commotion? We seem to know little about this historical figure. He was believed to be born around 300 AD in Greece and served as an officer in the Roman army. He held strong Christian beliefs and was executed as a result, thus becoming a martyr among Christians. However, it was not this story that created such recognition. It was the legend that the public fell in love with and rose to fame. This best-known legend stars heroism and love, one reflective of a fairy tale moral with triumph of good over evil. The legend dates back to the 11th century, where a dragon has sent a village into fear. In order to keep this dragon happy, an agreement was made to sacrifice one person each day by drawing names, however it was when the King's daughters name was drawn that a change occurred. Like most fairy tales, in the nick of time a knight in shining armour rode in on a white horse to save the damsel in distress by slaying the dragon, and where its blood spilled a rose bush grew. In the most traditional version, Saint Jordi did not marry the Princess but instead the population was converted to Christianity, thus the moral revolved around Christian baptism, so where the romantic theme of the day has originated is still unknown.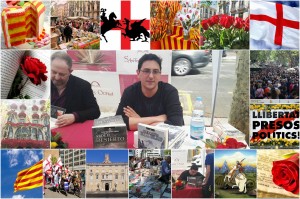 For Catalonia, Saint Jordi's day is their equivalent of Valentine's day but one with a distinct sense of regional pride as St Jordi became the symbol of Catalan identity during a political and cultural movement in the 19th Century, the 'Renaixença'. Tradition follows that on this day, the men give their sweetheart a rose, and more recently that women return the gesture with a book.  But this gesture is not restricted to couples but all beloved ones such as friends and families, typically boys buy roses for their mums and with a never-ending evolving society the gesture can go vice-versa. On this day, streets are flooded with roses and books, especially in Barcelona central where bookstalls and rose markets fill Las Ramblas and Rambla de Catalunya. I was lucky enough to enjoy this romantic atmosphere on Monday morning, and through this bustle and hustle we explored several stalls, sifting through the second-hand books or new bestsellers, but few were to be seen in English. To enhance these stalls, book readings and signings take place, thus commence the queues of people attending the presence of their favourite writer with TV and radio stations nearby to interview the authors. Our own Juan Pastrana did a book signing for his historical writings. (I repeat, we have a celebrity in the house so please queue up outside the school for a signature). It was a beautiful sunny day for this festival to explore the streets of the city, pass people dressed up as the legends characters, have an excuse to have a drink and take in the scent of roses, whilst snacking on St Jordi's Day bakery treats. In the act of sharing the love, many of the stalls sell roses and books to raise money for charities, alongside the city council's initiative, 'Roses contra l'oblit' where it is made sure that no-one goes roseless on this day such as the elderly.
In addition to exploring the tonnes of stalls the streets have to offer, there were special themed activities to attend. This includes a tour around the Government palace in Placa de Sant Jaume, which is only open to the public two days a year. This limited access proves popular through the long queues to view the noble galleries, the honour staircase and the room of One Hundred and in this same square, traditional Sardana dancing and Carillon concerts can be viewed. Another must is going to see Gaudi's extraordinary work of Casa Batllo on Passeig de Gracia. Gaudi's decoration was inspired by the legend thus the scaly roof symbolises the dragons skin and the window frames the bones of the dragon victims. Due to this inspiration on this day the house is covered in roses.
Regarding England history, Saint George became a patron saint in the Tudor period, but through the years the admiration of this legend declined, until the late 19th Century when there were attempts to revive the celebration and boost English culture. It was not until later 1990s to early 2000's that there was a more obvious revival especially in the displaying and flying of the English Flag (Saint George's cross) more generally by pubs and by football fans. Alike Spain the day is not considered a public holiday although there have been many attempts, but the encouragement of the celebration has led to a festival in Trafalagar Square organised by the mayor of London where traditional food and drink may be enjoyed. However, the day does not hold a romantic association and does not seem as popular, although in the past it was tradition to wear a red rose on your lapel, but this has slowly died out.
The rose bush that grew from the dragon's blood has spurred an obvious rose theme, it was rare to see a girl walk by without a rose in their hand on this romantic day. Not surprising with the figures of rose sales, with 7 million usually sold, 20% roses being from Catalonia and the rest imported. Most of these long-stemmed roses were decorated with a sprig of wheat and a 'senyere' the symbolisation of the official flag of Catalonia, thus emphasising the Catalonian identity. But where did this tradition of books arise from? It was to honour the anniversary of the death of Miguel de Cervantes, the most famous Spanish writer, alongside England who remembered the death of Shakespeare on this same day. Thus, it was decided on World Book Day to remember these two remarkable writers, but Saint Jordi often overshadowed this celebration. So, what better than to combine the two celebrations and the matters of love and literature hence the more recent gesture of exchanging books as well as roses since 1923.
It is not only red roses that can be bought on this day. Different colours often hold different meanings. Pink often symbolises happiness, orange: passion and desire, red and white: togetherness, and yellow usually represents friendship. Yet this year a new symbolic meaning came to light and perhaps for some overshone the traditional day. The colour yellow indicated support of the movement to free former politicians in prison from the independent movement, hence the yellow rose sales escalated this year.
Talking to students, Saint Jordi's day is a day popular among the population, one of love and culture, and in true spirit of celebration and pride for Catalonia. It's amazing what such legends can do to a love for one's country.
Click the link to read the blog in Spanish – Haz cliq aqui para leer el blog en español:  St Jordi's Day Blog_translated
Written by Emma Upshall