BLOG
Información y noticias sobre ELITE formación integral
Easter
After our visit from snow, we are finally welcoming the season of Spring and with it, the Easter holidays. So, let the sun come out, the cold storm fade away and let's delve into the season of too much chocolate.
Easter is one of the most important Christian festivals, celebrating the resurrection of Jesus from the dead known as Easter Sunday. This Holy week begins with Maundy Thursday where Christians remember the Last Supper of Jesus and his disciples, followed by Good Friday, an unusual choice of name for Jesus' Crucifixion and the day of mourning, up until Easter Monday which is celebrated as a day of rest. However, like most national holidays, Easter is becoming more commercialised and for some people the holiday has lost its religious meaning. The festival is another excuse for family to get together.
Following in America's footsteps of excessive holiday celebrating, England overindulges the Easter holiday with crazy colours and Easter parades to a much bigger extent than Spain. As soon as Christmas is over, out goes the Christmas merchandise in supermarkets, and in comes the Easter products overflowing the shelves. With Easter marking the beginning of Spring, the holiday is associated with new born animals due to the season being linked with renewal, birth, good luck and fertility. Therefore, images of lambs and chicks hatching from eggs typically symbolise this festivity, hence the evolvement of the chocolate egg and the popular custom of exchanging them. Another animal which acts as a symbol of fertility is the rabbit, and this has resulted in the mascot, the Easter Bunny. Apparently though, the Easter bunny has its origins in German writings and it was here where the first edible bunnies appeared. In the UK, the Easter Bunny acts similar to Father Christmas as children believe that if they are good, the Easter bunny will leave chocolate eggs for them. This belief has inspired the fun activity known as egg hunts. This event involves several eggs whether chocolate or decorative hidden in a building or a garden for the children to be sent to look for them.
For many, it is believed that Easter Sunday marks the end of Lent, a forty-day period of fasting and prayer. This end of fasting means only one thing, chocolate! English supermarkets display brands and brands of chocolate eggs and bunnies, but one of the most popular brands is Cadburys, the creators of Crème eggs (consisting of a thick chocolate shell containing a white and yellow fondant) and mini eggs (a solid milk chocolate, with a thin hard candy-coated shell). These delicious treats are one to die for and we have all had withdrawal symptoms.
Whilst the holiday in England has grown to be a massive chocolate feast, in previous years children were often given actual chicken eggs, probably hard boiled. Other authentic events took place and are still now relived in certain places. For example, Preston in Lancashire still host Egg Rolling, an outdoor event where children roll hard-boiled eggs down a hill. The children compete to reach the bottom first in addition to not cracking the egg. Egg decorating is an activity which is still adopted in schools, having children paint blown out eggs to make a gift for family and friends. Easter was also known as a traditional day for marriage. This is where the association with Easter bonnets originate. Supposedly the women would wear these bonnets decorated with flowers and ribbons and in some places now like Battersea people dress up like this for an Easter parade.
As well as chocolate, England associates other food with this season. This includes one of our only foods we can truly be proud of: a roast dinner, and in this case, often with roast lamb. Others include Hot Cross Buns. Originally baked in England to be served on Good Friday, these delicious treats are now eaten throughout the Easter period. They are small sweet buns which contain raisins, currants or chopped fruit. Before these are baked, a cross is slashed on the top of the bun and covered with sugar icing to symbolise Jesus' crucifixion and the religion of Christianity. You may have heard the old rhyme often sung by children, "Hot cross buns, hot cross buns, one a penny, two a penny, hot cross buns".
Whilst Spain has certainly adopted the Easter trait of chocolate eggs and the younger generations are perhaps becoming familiar with Easter egg hunts and the Easter bunny, it is still a festival focused less on this greed and more on the togetherness of family. Traditional Spanish treats eaten during Semana Santa include Torrijas, bread soaked in milk and egg which is then fried and served with sugar and honey, an alternative sweet snack to chocolate which sounds just as delicious. In Catalonia, the Mona is incredibly popular and has been mentioned by every one of my students, decorated with chocolate Easter eggs, coloured feathers and chicks. And hopefully, as part of the Pen Pal Project over the holidays the young students will be filming themselves make this treat for us to send to America. From what my students have told me, whether you are religious or not, most people still follow the tradition that the godfather brings the cake to their godchildren on the Easter Monday. During this day, the family have a lunch or picnic and the children fight for the most beautiful feather or biggest Easter chick. Semana Santa for Spaniards means a time for people to all join on the streets with music playing an important part, it's a much more cultural atmosphere here than in England for sure. People watch re-enactments of the Passion play, I'm sure it was a success at La Passió.
Being a typical Language School, we brought our commercial Easter activities to the children this week. We had a lot of fun playing all sorts of games, from Easter egg hunts with clues, spoon races, a blindfolded chocolate mess and creating our own Bunny Instagram's. It was a shame none of us put our big bunny ears and fluffy tail and acted as the ultimate Easter bunny. The children enjoyed the special days, and with exams over at Elite, you can have an enjoyable week off. Although for university students, if it's anything like England your holiday will be crammed with work.
The religious holiday would have been interesting to experience here in Spain, however time off means we are all jetting back to England. We can't wait to stuff our faces with crème eggs and mini eggs, and fill my suitcase with them all. And maybe if we are nice, bring some back for you! That's if we haven't eaten them all already!
P.S – Just a little bit of personal information as we share a few of our individual celebrations:
For me, my family and I would go on an Easter hike, and whilst we did me and my siblings would miraculously find little chocolate eggs wrapped in foil! Years on, we later found out that my parents sneakily dropped eggs onto the floor from their pockets, my own personal Easter bunny!
For Tara, Easter means eating chocolate eggs and spending valuable time with family whilst watching films.
For Elliot, when he was younger his mum would write post it notes and scatter them around the house as clues for him and his brother to find their eggs.
For Erin, Easter means an excuse to make crispy cakes, small cupcakes made simply of cornflakes and melted chocolate cooled in the fridge. A simple but delicious delicacy.
Anyway, Happy Easter to you all, have a relaxing week and see you in over a week after we've gained a few extra pounds and will be desperate to return to the Spanish sun.
                                                                                                                                                     Emma Upshall – intern at ELITE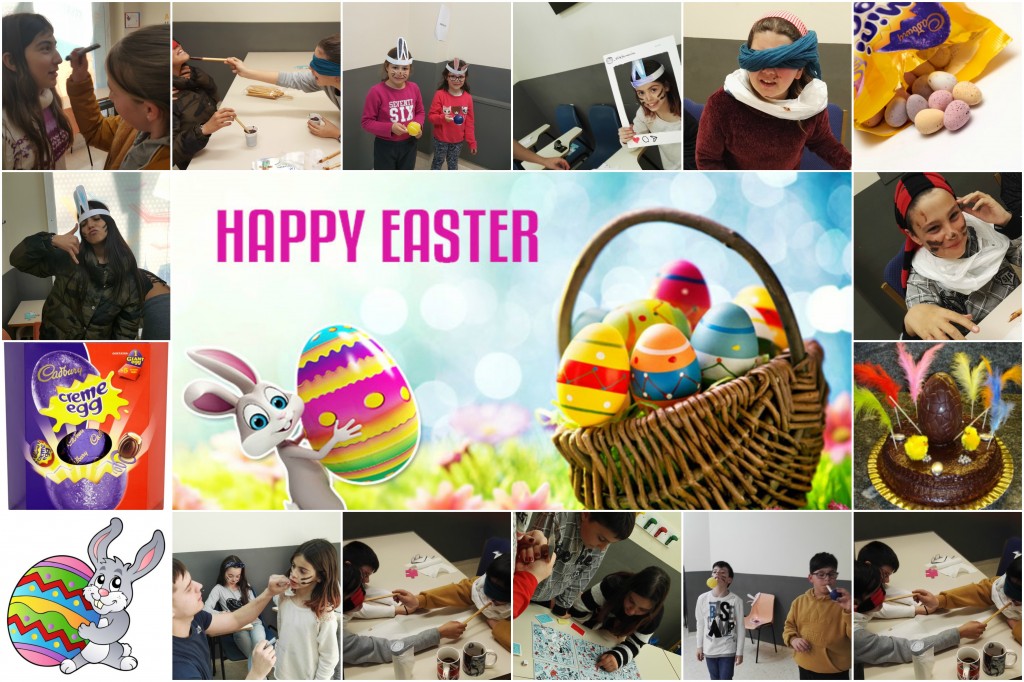 Easter (Semana Santa)
Tras la visita de la nieve, finalmente hemos dado la bienvenida a la primavera y, con ella, a las vacaciones de Semana Santa. Así que dejemos que el Sol brille, que desaparezcan las tormentas invernales y entremos en esta estación con mucho chocolate…
La Semana Santa es una de las festividades más importantes de la cristiandad, en la que se celebra la Resurrección de Jesús en el conocido como Domingo de Resurrección. La Semana Santa da comienzo con el Jueves Santo en el que los cristianos celebran la Santa Cena de Jesús y sus Apóstoles, seguida por el Viernes Santo, cuyo nombre en inglés (Good Friday – El buen viernes) resulta bastante irónico teniendo en cuenta que fue el día de la Crucifixión de Jesucristo y del luto por él. La Semana Santa se va convirtiendo cada vez más en una fiesta comercial, y para mucha gente ha perdido su significado religioso. La festividad es una excusa más para reunirse con la familia.
Siguiendo la tendencia marcada por Norteamérica de celebrar las fiestas de forma desmesurada, en Inglaterra se festeja la Semana Santa con una locura de colores y puestos de Semana Santa en una cantidad mucho mayor que en España. Tan pronto como acaba la Navidad, todo el merchandising de Navidades desaparece de los supermercados, dejando su lugar a los productos de Semana Santa que inundan los estantes. La Semana Santa marca el inicio de la primavera, asociándose esta celebración con el nacimiento de animales, adquiriendo un significado de renovación, nacimiento, buena suerte y fertilidad. Por tanto, las imágenes de corderos y pollitos saliendo de los huevos se han convertido en las típicas de esta festividad, lo que se puede comprobar en la evolución de los huevos de chocolate y la costumbre popular de intercambiarlos. Otro animal que se ha convertido en un símbolo de la fertilidad es el conejo, transformándose en la mascota por antonomasia de la Semana Santa, el conejo de Pascua. Se cree que el conejo de Pascua tiene su origen en escritos alemanes, siendo en ese país dónde aparecieron las primeras figuritas comestibles. En el Reino Unido, el conejo de Pascua tiene un papel similar al de Papá Noel, ya que los niños creen que si se portan bien, el conejo de Pascua les dejará huevos de chocolate. Esta creencia ha inspirado la divertida actividad conocida como la búsqueda de huevos. Esta actividad consiste en encontrar diversos huevos, decorativos o de chocolate, escondidos en un edificio o en un jardín, y normalmente suele encargarse esta búsqueda a los niños. Estos deliciosos dulces están de muerte, así que todos nosotros hemos acabado sufriendo el síndrome de abstinencia.
Para muchos creyentes, el Domingo de Pascua marca el final de la Cuaresma, un período de cuarenta días de ayuno y oración. El final del ayuno solamente significa una cosa: ¡chocolate! Los supermercados ingleses muestran estantes y estantes llenos de huevos y conejitos de chocolate, pero la marca más popular es Cadbury, los creadores de los Huevos Crème (el equivalente aproximado en España serían los Kinder Sorpresa), que consisten en una cáscara de chocolate que contiene un fondant blanco y amarillo, y los mini huevos (un huevo enteramente de chocolate, cubierto con una fina capa de caramelo que simula la cáscara).
Mientras que las vacaciones en Inglaterra han evolucionado hasta convertirse en una masiva fiesta del chocolate, hace algunos años a los niños se les daban huevos de gallina reales, probablemente cocidos. También hay otras actividades que se han vuelto a revivir en algunos lugares. Por ejemplo, en Preston (Lancashire) aún se celebra el Egg Rolling, una actividad al aire libre en que los niños hacen rodar huevos cocidos por la ladera de una colina. Los niños compiten por ver quién es el primero en alcanzar el pie de la colina sin que el huevo se rompa. La decoración de huevos es otra actividad, que se ha popularizado en las escuelas, con los niños pintando los huevos para darlos como regalo a familiares y amigos.
La Semana Santa también es un período tradicional para las bodas, así como el origen de la asociación con los sombreros de Pascua. Supuestamente, las mujeres deben llevar esos sombreros decorados con flores y cintas y en algunos lugares como Battersea la gente se viste de esta forma para un desfile de Pascua.
Aparte del chocolate, en Inglaterra la Pascua se asocia con otras comidas. Esto incluye uno de los pocos platos de los que los ingleses podemos estar orgullosos: una cena de asado, que, en este caso, consiste básicamente de cordero. También tenemos los Hot Cross Buns, una especie de bollitos horneados, originalmente horneados en Inglaterra para servirlos el Viernes Santo; esta delicia se come actualmente durante toda la Semana Santa. Son pequeños bollos dulces con pasas, grosellas o pedacitos de fruta. Antes de ser horneados, se les marca con una cruz en su parte superior y se rellena este corte con azúcar glaseado para simbolizar la crucifixión de Jesús y la religión cristiana. Tal vez hayáis oído la vieja rima cantada por los niños "Hot cross buns, hot cross buns, one a penny, two a penny, hot cross buns"
Mientras que en España se ha adoptado la tradición de Pascua de los huevos de chocolate y las nuevas generaciones se han familiarizado con la búsqueda de los huevos y el conejito de Pascua, aún es una festividad menos centrada en la glotonería y más en las reuniones familiares. Los dulces españoles más típicos de la Semana Santa incluyen las Torrijas, pan mojado en leche y huevo que es frito a continuación y se sirve con azúcar y miel (o canela), un snack dulce alternativo al chocolate que suena tan delicioso como sabe.
En Cataluña existe la tradición de la Mona, increíblemente popular, y que todos y cada uno de mis alumnos ha mencionado en clase. Se suele decorar con huevos de Pascua de chocolate y pollitos. Afortunadamente, como parte del Pen Pal Project sobre las vacaciones, mis alumnos más jóvenes se han grabado a ellos mismos haciendo este dulce para enviar este "tutorial" a América. A partir de lo que mis alumnos me han contado, seas creyente o no, la mayoría de la gente sigue esta tradición, en la que el padrino lleva el pastel a sus ahijados el Lunes de Pascua. Ese día, la familia se reúne para comer y los más jóvenes pelean por ver quién se lleva la pluma más bonita o el huevo más grande. La Semana Santa para los españoles significa un tiempo en que la gente sale a la calle con música como parte de las celebraciones, un ambiente mucho más cultural que en Inglaterra. También he aprendido que mucha gente asiste a escenificaciones de la Pasión de Cristo, que en Esparreguera son muy populares y se representan en el teatro de la Passió.
Al ser una escuela de idiomas, compartimos nuestras actividades de Semana Santa con los niños. Nos lo pasamos genial jugando a muchos juegos, incluyendo la búsqueda de huevos de Pascua, carreras de cucharas, juegos a ciegas con chocolate y creando nuestro propio conejito para Instagram. Lamentablemente, ninguno de nosotros se puso las orejas y la colita de conejo y actuó como la versión definitiva del conejito de Pascua


Los niños disfrutaron muchísimo esos días especiales, y con los exámenes ya hechos, se dispusieron a disfrutar de unos días de vacaciones. Aunque para los universitarios, si es como en Inglaterra, esos días estuvieron llenos de trabajos.
Hubiera sido interesante experimentar la vertiente religiosa de estas fiestas en España, pero, desgraciadamente, ese tiempo libre significaba la posibilidad de poder volver a Inglaterra a pasar algún tiempo con la familia. Estábamos impacientes por llenarnos la cara con los Crème Eggs y los mini huevos, además de llenar mi maleta de ellos. Y, tal vez, si somos considerados, traer algunos para vosotros. Eso si no es que nos los hemos comido todos 
P.D – Tan solo una pequeña información personal sobre nuestras celebraciones:
En mi caso, mi familia y yo fuimos a esconder huevos, y mientras lo hacíamos, yo y mis hermanas encontramos, milagrosamente, pequeños huevos de chocolate envueltos en aluminio! Luego descubrimos que mis padres iban dejando caer huevos al suelo de sus bolsillos, son mis conejos de Pascua personales!
Para Tara, la Semana Santa significa comer huevos de chocolate y tener tiempo para compartir con su familia mirando películas.
Para Elliot, cuando era más joven, su madre le escribía notas en post it y las ponía por todos lados como pistas para que él y su hermano encontrasen los huevos de chocolate que había escondido.
Para Erin, la Semana Santa era una excusa para hacer pasteles crujientes, pequeños cupcakes de copos de maíz mezclados con chocolate y puestos a enfriar en el frigorífico. Una delicatesen simple pero deliciosa.
De cualquier manera, Feliz Semana Santa, disfrutad de una semana de relajación y nos vemos dentro de una semana… después de haber ganado algún quilo de más, ansiosas de volver a disfrutar del sol de España.
Emma Upshall